'Minimal but 'Luminous' Skin took  centre stage on  the Spring/Summer catwalks this year and as the warmer months are fast approaching, it may be time to consider switching your  usual foundation for something a bit lighter.  The aim is to achieve flawless, glowing skin, and the key products here are tinted moisturizers,  those who are less comfortable with minimal coverage can opt for a light weight foundation  which will give better coverage.
I must admit this trend isn't the most easy to achieve, speaking as someone with rather dry skin, I can tell you that a foundation with good mositurising properties is essential for creating a flawless and glowing complexion.
With over hundreds of options on the market it could conjure up quite a headache trying to select one that suits. However amongst my favourites include:
CHANEL VITALUMIÈRE AQUA  Ultra Light Skin Perfecting Make Up.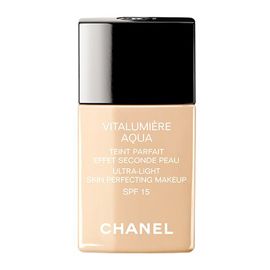 "A new-generation texture. An unprecedented sensory experience. A unique makeup result.  Rapid and easy application.
VITALUMIÈRE AQUA. Apply your makeup without thinking about it. Its soft and evanescent ultra-fine fluid texture is a real surprise: although exceptionally delicate and light, it offers an incomparable "second-skin" perfecting result. The complexion appears amazingly even, fresh and energized. The skin glows with seemingly nude beauty. As if lit from within. Bathed in light… Its formula, endowed with a UVB sun filter and mineral sunscreen, protects the skin from damaging sun rays (SPF 15). Its crystalline fragrance accentuates the sensation of freshness and pleasure on application."
This is currently my favourite base at the moment, it applies like a dream! The texture as Chanel describes, really is a luxurious surprise! so light and easy to apply and the results are simply amazing. My skin tone is evened out, and the odd dry patches are hydrated rather than caked. The finish is natural and gives the skin a radiant glow. I am mostly impressed by its close to nothing , light weight feel on the skin and with SPF 15 protection,what more can you ask for?
Also another fave of mine that has even lighter coverage…
Laura Mercier's Tinted Moisturizer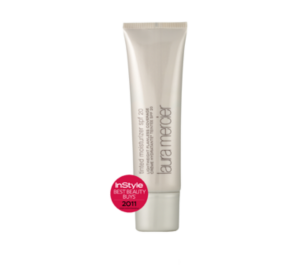 "Laura Mercier Tinted Moisturizer is a sheer, lightweight moisturizer with SPF 20 & a hint of color that can be used in place of foundation for a natural appearance while adding a healthy glow to your complexion."
This seems to have become quite a cult product, and it definitely lives up to the hype! it gives very light coverage, but evens out the skin tone perfectly, the result is flawless looking skin that is natural looking and dewy. However, I found that in comparison to Vitalumiere, Laura Mercier is better for the glowing, glossy skin look but it is slightly more oily and therefore not as long-lasting as Vitalumiere which finishes almost like a powder.
The available options are endless but you must shop around to find your most compatible shade and brand. I learned also that it's not always wise to trust the sales lady behind the counter. Once  when I was promised a shade to match my skin tone, I was absolutely mortified when she reached for the most orange shade on the counter!  I was not impressed to say the least not to mention quite offended! lol! so word of advice, trust no one but yourself! you know your skin better than anyone!
So when you've mastered the art of natural, flawless skin, the perfect compliment is this seasons minimum makeup look, opt for cream blushes in soft pinks and peaches to give a healthy flushed look. Keep lips to minimum with a barely there nudey brown/pink, and a slick of  subtly winged eyeliner  to finish the look.